Doug Richardson was born in Arcadia, California. The son of a career politician, Doug did most of his growing up on a small ranch in the rural foothills outside Sacramento. He was twelve when he discovered his father's collection of Ian Fleming's James Bond paperbacks on a shelf in his parent's converted garage. What followed was a teenage obsession with the film series and then cinema in general.
Though Doug attended The USC School for Cinematic Arts with ambitions to become a movie director, while there he discovered his affection for writing screenplays. After leaving USC, Doug directed a few educational films, but his sights remained set on Hollywood. After reading some of his first screenplays, Warner Brothers offered Doug a two-year contract—one of the last "paid by the week" studio writer gigs.
In 1989 20th Century Fox hired Doug to adapt Walter Wager's novel 58 Minutes into the first sequel to the hit franchise Die Hard. In 1990, it was released as Die Hard 2, Die Harder. Around the same period, Doug and his one-time writing partner, Rick Jaffa, garnered national attention when their spec screenplay, Hellbent…and Back was the first in Hollywood to sell for a million dollars. Doug has since written and produced feature films including the box office smash Bad Boys (1995), Money Train (1995), and Hostage (2005). In 2004 Doug produced the comedy Welcome to Mooseport.
While in between movie projects, Doug managed to finish his first novel, Dark Horse. The political thriller was published in 1997 by Avon/Morrow, who released Doug's second novel True Believers two years later.
While Doug continues to work in Hollywood developing motion pictures and TV pilots, he finds writing novels provides him the greatest satisfaction and reward. 2011's The Safety Expert marked Doug's return to penning novels and is his first modern-day L.A. Noir thriller.
Blood Money  (2013) is the first of Doug's Lucky Dey Thriller Series. With his "uncanny ability to glimpse into the brutality and instability not only of the criminal mind, but also a darkness in the heroes" (IndieReader), Doug winds readers through a sinister L.A. landscape where unlikely worlds intersect to create a stew of tension and suspense. Lucky Dey continues fighting chaos and bad guys in Hip Slick and Dead (2019), The Night is Never Black (2018), American Bang (2017), Reaper (2016), and 99 Percent Kill (2015).
In 2015 Doug released The Smoking Gun: True Tales from Hollywood's Screenwriting Trenches—a collection of some of his most popular blog posts in which he shares personal anecdotes and insight from his thirty-year showbiz career.
While not behind his computer Doug enjoys hitting little white balls towards faraway holes, a smooth glass of scotch on the rocks, and cooking for his family and friends. He lives in Southern California with his wife, Karen Richardson, managing editor of the Mentoris Project and author of Harvesting the American Dream: A Novel Based on the Life of Ernest Gallo.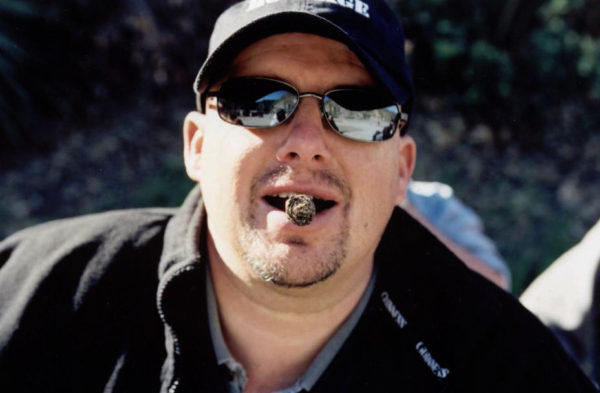 SIGN UP HERE TO GET DOUG'S NEWSLETTER
AND NEVER MISS A NEW RELEASE